November 7, 2016
This is the latest in a series of dispatches from scientists and education officers aboard the Schmidt Ocean Institute's R/V Falkor. Read more posts here, and track the Falkor's progress here.
By Mónika Naranjo González and Peter Keen
Today Falkor has begun a five-day transit from the Timor Sea into the Pacific Ocean. While some of those onboard are yielding to the soothing effects of its rocking, the crew is busy making sure the island keeps functioning. Fundamentally, that is what we are: an 83-meter island with an autonomy of 36 days.
Falkor's inhabitants usually fall into two categories: Crew or Scientists. But every now and then a rare phenomenon will take place: islands within the island, not one thing or the other. There are two such occurrences in this expedition: Peter Keen and Mónika Naranjo, aka "Special Personnel". 
Mónica: Knowledge conquers fear
For me, working at sea was a sort of accident. I was an innocent bystander in the hiring process of a Costa Rican NGO. Eleven years ago, when I got on a ship to sail into open ocean for the first time, I cried. That night, when we went off of the continental shelf and the Captain allowed me to turn off the echo sounder, I was in awe. I felt a unique buzz of trepidation and elation go through me.
They say knowledge conquers fear. I had anticipated that not being able to spot any land would be terrifying, but I'll let you in on a secret: every time you set sail, you are bound to see something you've never seen before. That time I swam with sharks for the first time and Cocos Island became my favorite place on the planet, so I decided to allow my job to keep bringing me back to the ocean. That's why I jumped at the opportunity to become one of Schmidt Ocean Institute's Outreach Coordinators onboard Falkor.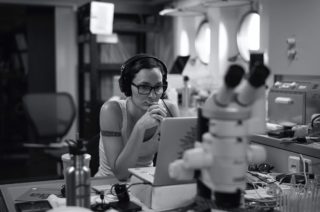 Ironically, even though I'm a communication expert, it takes a long while for me to break the ice and feel truly comfortable in new surroundings. Take meal times for instance; at the beginning those were very intimidating moments, but little by little the lovely mixture of accents that graces the mess disarmed me. Today I'm sailing on my fourth expedition, and each time I set eyes on Falkor waiting for me in a new port, a part of me is happy to see my friend.
Ships are confined spaces where camaraderie is fundamental; more than 14 nationalities coexist here at any given time.  Curiosity takes over through conversations about science, discoveries, homelands, and families. Each expedition is a unique adventure available only to a fortunate few, which inevitably creates long-lasting bonds that I'm honored to be part of.
Peter: Drawn to islands
This is my fourth expedition with Schmidt Ocean Institute on research vessel Falkor, though my association with this ship first began when I joined her in Hawaii back in May 2014.  My Marine Technician colleagues had invited me out to participate on a set of student cruises for the University of Hawaii, as a introduction to Schmidt Ocean Institute.  After that short trip I returned a little over a month later to pick up the vessel, again out of Honolulu for a mapping and geophysical expedition to the Loi'hi sea mount off the Big Island.  A trip made even more interesting through the participation of Woods Holes' Sentry,  an autonomous vehicle that conducted deep dives over the seamount, while Dr Brian Glazer studied the down stream effects of iron enriched waters escaping from hydrothermal vents.  It seems I'm drawn to islands, I come from one, I live on one, and I have done an awful lot of work around them.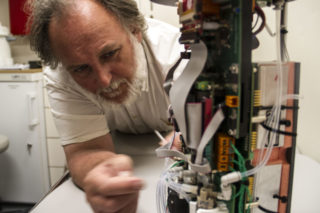 These expeditions with Falkor ticked a lot of boxes for me.   As the Director of a company that specializes in environmental characterizations, sensor systems, and novel technology for exploring the marine environment, the opportunity to conduct science missions on this new research platform was an absolute delight.  To find that the vessel was also crewed by some of the nicest people you are ever likely to meet really just made if all the better.  It became plain that the crew were extremely dedicated to their mission of developing significant scientific capability on board Falkor, building on what was already an impressively good deep water survey vessel.  These are values that align with of my own approach to the science of the environment.
My own journey leads me to intersect with Falkor's path on an occasional basis, but we always stay in touch and look for interesting things to do together.  I am an Environmental Scientist and Technologist from New Zealand, schooled in Coastal Marine Ecology.  I've been fortunate to have been involve in programs from the polar regions to the tropics, but there seems ever more to do, finding new ways to measure and interpret the environment and, more recently, how to explore these environments with autonomous vehicles.  It almost seems that these things build upon each other, creating an interesting mix of science, technology, robotics, and kaitiakitanga, or guardianship, of the fabric of the ocean's ecosystem.
Becoming involved
Being a sailor is a very unique life, filled with both sacrifices and very rewarding experiences. But just like Peter and Mónika have, there are many more ways to be close to the ocean and become involved in its stewardship. 
This post originally appeared on the Schmidt Ocean Institute blog.