18 January 2013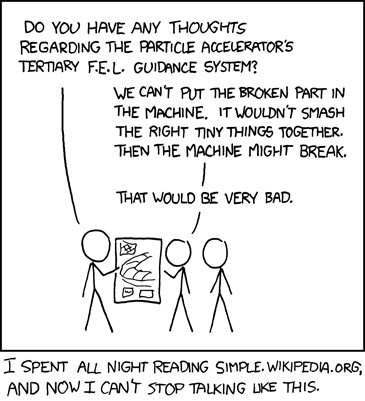 By now you've hopefully seen the geo-meme that Anne Jefferson over at Highly Allocthonous started using the Up-Goer-Five text editor, which forces you to write a description of something using only the thousand most commonly used words in the English language. (It's based off of this XKCD comic.) Anne challenged the geobloggers to write about their own research using this method, and as much as I enjoy adapting my writing for a wide audience (that's why I got into blogging!), it's darn hard to write about hydrothermal alteration in lava domes when you can't use any of those words (not even dome). Thank goodness rock is still in there, or I'd be in trouble! As it is, I had a bit of trouble describing lava domes and hydrothermal circulation:
I study how water can make really big groups of hot rocks, or rocks that used to be hot, fall down. When water gets into these rocks and gets hot it can change bits of them to different kinds of rock that fall down more easily. Sometimes this happens very fast and sometimes it happens very slowly. This can be very bad for people who live near these rocks. I go to look at these rocks (and sometimes look at them from far away) and write down things about them for some of my work, but I also use computers to tell me what the rocks will do if I add water to them. My work will be good for people living near these rock groups because it will help them know if, when and why the rocks might fall down.

I also write about my work and other things I find interesting about very hot rocks on my computer. Sometimes I show pictures of places I have gone to and talk about things I have done in these places. I also talk about how I learn about rocks and show other people things about them in school.
This is what I would call the toned-down version of volcanic hazards, because apparently 'explode' is not a common word (and lava dome collapses are often associated with explosions). Also, not being able to use "internet" or "teach" is a bit tough when you're a geoblogger who writes about their experiences in grad school.
Fortunately for me, I get to talk about lava dome collapse hazards in a lot of different settings. The Up-Goer-Five text editor is the extreme simple end of the scale, but I've also discussed them on this blog. And, just this week, I got the news that my first peer-reviewed journal article has been published! My co-authors and I decided to make it open-access (and don't get me started on how ironic it is that we dropped a pretty big chunk of change on that), so you can all download a copy for free:
Ball, J., Calder, E., Hubbard, B., and Bernstein, M., 2013, An assessment of hydrothermal alteration in the Santiaguito lava dome complex, Guatemala: implications for dome collapse hazards: Bulletin of Volcanology, v. 75, no. 1, p. 1-18.
It's pretty boggling to me that I can actually manage to summarize what's essentially half my PhD thesis in an 18-page paper – and then go on to reduce it to a one-paragraph blurb. It really puts things into perspective!