December 10, 2010
My What to Buy a Geologist for Christmas post has been attracting some serious (well, for my little blog anyway) traffic over the past few days. Apparently, many people find my blog post by googleing phrases such as "geology christmas gifts," "geology gifts," and "what to buy a geologist." I guess many people are doing their Christmas shopping for their geologist friends and family!
Over the past few days, I've thought up another ten items that I think a geologist would like for Christmas. Again, please feel free to post your own suggestions for geological Christmas gifts in the comments!
Gift #1: Trilobite Jewelry from Surlyramics
Image from Surlyramics Etsy shop.
Image from Surlyramics Etsy shop.
Amy Davis Roth is a talented artist. She makes all kinds of pretty ceramic jewelry- art you can wear, as she puts it! I am particularly fond of Amy's trilobite jewelry. I think I just might have to order some trilobite jewelry for myself for Christmas… or coax  my fiance (who has yet to buy me a gift, as far as I know) into ordering some for me. You can check out Amy's trilobite– and other jewelry, much of which is skeptical and scientific– on her website, in her Etsy Shop, and in her Artfire Shop.
Best of all, if you use the code "SKEPCHICKMAS" you receive 10% off your purchase… good for the rest of December!
Cost: About $20. Prices vary by item.
Gift #2: Roadside Geology Books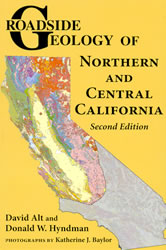 Image from Geology.com store.
The "Roadside Geology" guidebook series is wonderful.These guides give a very accessible overview of the geology of each US state and are great for planning field trips- for geology classes or just for fun- to various geologic features. The books do, indeed, focus on roadside geology. Much geology can be seen at roadcuts, especially in states that have plenty of vegetation and biological thingies covering up the interesting rocks. So, these books tell you where to find the good roadcuts!
But which book to order? Well, you can order the book for the state where your geologist lives. Or you can think of a state they plan to visit and you can order that title.
You can order the Roadside Geology books from
Geology.com
or from Amazon.com
Cost: About $20 each.
Gift #3: The Age of the Earth
Image from Bookapex.com
This is one of my favorite books. This book explains exactly how we know the age of the Earth, which is about 4.5 billion years old (not 6,000 as the Young Earth Creationists say). I first read this book several years ago when I was curious how we knew the age of the Earth… after all, we don't have any Earth rocks that are that old. There are a few rocks that are about 4 billion years old, but none that date exactly to the age of the Earth! This book explains how dating of meteorites and the Pb isotope system (in particular) allow geologists to constrain the age of the Earth very well. This book is great read and explains complex isotope dating systems in a straightforward manner. I highly recommend this book for all geologists.
Cost: About $30.
Gift #4: Simon Winchester Books
Image from SimonWinchester.com
Image from SimonWinchester.com.
Image from SimonWinchester.com.
Simon Winchester is a great geology writer- and a great writer in general. My all-time favorite book of Winchester's is actually "The Professor and the Madman" about the making of the Oxford English Dictionary. However, that's not a geology themed book… so for geology Christmas gifts I recommend these three books: "Krakatoa: The Day the World Exploded: August 27th, 1883,"  "The Map that Changed the World: William Smith and the Birth of Modern Geology," and "A Crack in the Edge of the World: America and the Great California Earthquake of 1906."
Great books- feel free to buy one or all three!
Cost: About $10 each from Amazon.com
Gift #5: A Giant World Map
Image from Amazon.com.
Geologists love maps. They will cover their walls with maps, if their significant others and housemates let them. What better to give a geologist than a giant world map? I recommend the above map, which can be bought here from Amazon.com.
Cost: $83.90 (on sale!) at Amazon.com. You can also purchase a smaller world map- for about $10-20.
Gift #6: Prints from National Geographic
Volcanic eruption and lightening in the ash plume in Eyjafjallajokull glacier in Iceland. Image and caption from NationalGeographic.com.
There are hundreds of photographs- including many with geological themes- from the National Geographic magazine that you can order as prints here. You can also print your own National Geographic wall art here, which I believe is free! Of course, geologists always take their own pictures in the field- but some of the National Geographic images, such as the one above of the Eyjafjallajokull eruption, are absolutely stunning.
Cost: About $20-$200 (depending on size and framing).
Gift #7: Hand Lens
Image from GeologyOutfitters.com.
Geologists use hand lenses to magnify rock features (mostly minerals) in the field for identification. A good hand lens is a very useful tool for a geologist! You can order high-quality hand lenses here.
Cost: About $30-$40.
Gift #8: A Gift Certificate to an Outdoor Shop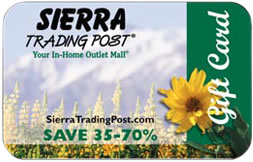 Image from SierraTradingPost.com.
Geologist love buying hiking gear- field shirts, hiking boots, hats, fleeces, and so on. So, a gift certificate to an outdoor shop such as Sierra Trading Post, EMS (Eastern Mountain Sports), The North Face, REI, L.L.Bean, Patagonia, etc. is sure to be a hit. If you don't like giving gift cards, just order your geologist a field hat or shirt or even some warm wool socks.
Cost: Whatever you want!
Gift #9: More Geology T-Shirts
Sedimentary, My Dear Watson. Image from CafePress.com.
Never volunteer to help a geologist move. Image from CafePress.com.
Geology: rock always wins. Image from CafePress.com.
Geologists don't really have a dress code… unless that code is breaking any sort of department dress code. Geologists tend to wear fun t-shirts, jeans, and teva sandals to work. CafePress has many great geology t-shirts. Just go to their website and search "geology t-shirt." Above are few CafePress t-shirts that I like, but there are many others. Go check it out!
Cost: About $20-$30.
Gift #10: Periodic Table of the Elements Shower Curtain
Image from ThinkGeek.com
This gift is ideal for the geochemist! I know that there are sometimes days when I'm thinking about my geochemistry while brushing my teeth or in the shower, and I wish I had a periodic table on hand. The perfect solution is this periodic table shower curtain. If you want something that every geologist (even a geophysicist!) is sure to love, there is also the world map shower curtain (below). You can order the periodic table shower curtain from ThinkGeek.com here and the world map shower curtain from Amazon.com here.
World map shower curtain. Image from Amazon.com.
Cost: About $15-$30.